49th annual Jim Hayes Wrestling tournament prepares Eagle's Wrestling Team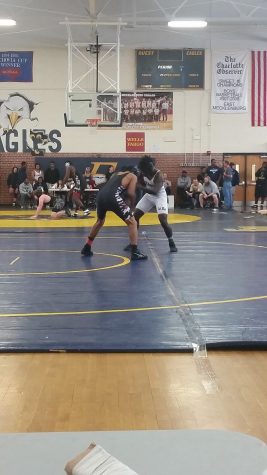 Saturday Dec. 3 marked the 49th annual Jim Hayes wrestling tournament-the longest lasting tournament in North Carolina. Wrestling teams from all over the city of Charlotte attended the tournament, to show off their talent and receive the winning trophies.
The East Meck wrestling team placed ninth in the tournament and three team members made it into the finals. Finalists were Dakota Allen (220 lbs.), Joshua Dixon (160 lbs.), and Caleb Mingo (182 lbs.). Though the finalist put up a tough fight they upheld a solid second place position .
The team will continue striving in every aspect of their preparations and competitions, and although they have thus far faced many trials, head coach Eric Sciutto says the worst is yet to come.
" The most difficult challenges are ahead of us," he said.  "However through dedication and resilience I am 100% confident that this year's team will shock the wrestling community."