Heather or not here they come!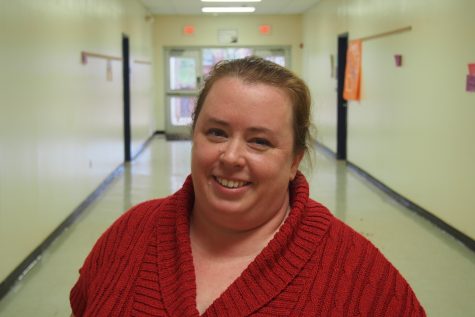 Every East Meck student has seen her in the hall, greeting each person who walks by. International Baccalaureate coordinator, Heather LaJoie, enjoys interacting with the student body and without her, many IB students would be lost.
LaJoie's job title is soon to change as she will take on a new position as the lead IB teacher for the Charlotte-Mecklenburg School district.
"I was feeling like it was time to start something new," LaJoie said.
The opportunity for this position was first brought up in March and the job offer was officially posted in September, and LaJoie decided to apply.
Lajoie has been teaching at East Meck since 1992 before becoming IB coordinator in 2005, and has shaped the IB program into the award-winning state that it is today. Since 2005, 71 percent of IB students at East Meck have received the prestigious IB diploma on top of their high school diploma.
"I feel pretty qualified [for the position]" LaJoie said.
Along with developing the program at East Meck, she has also mentored many others teachers in the IB program.
Many of those who have heard the news about LaJoie's newest opportunity are sad to see her go.
"It's bittersweet for me," Principal Rick Parker said. "She deserves it and worked hard for this honor, but she will be greatly missed."
LaJoie has worked closely with Parker to help make East Meck as great as it can be. Whether it's help with a speech, or coming up with ideas, LaJoie has been someone Parker can rely on.
"She has been a pillar of the school and in all the growth that we've had," Parker said.
As Lajoie moves on to the newest chapter of her life, one of her responsibilities will include working with and helping the IB coordinators at CMS schools, including school visits and serving as a leader. Another part of her job that she is excited about, is serving as a connection between the IB Organization and the CMS district.
"It gives me a sense of excitement to know that the district is this invested in the IB program," LaJoie said.
With such a strong and helpful figure for the IB students at East Meck leaving the nest, there was a large void to fill for the position of IB coordinator. The job was posted on the CMS website and Parker put together a diverse eight person panel of parents, teachers, and administrators for the interview process. After much thought, the new IB coordinator at East Meck, will be current chemistry teacher, Heather Hays.
"One advantage to me taking over is that Ms.LaJoie and I are friends and I am very comfortable with her," said Hays.
Hays has been helping LaJoie with different aspects of the IB program, like the sophomore personal project, and now she is ready to take responsibility full time.
"I know that I will be able to go to her [LaJoie] and be like, 'can you help a girly out?'" Hays said.
Hays is only exposed to chemistry students with her teaching job, but is looking forward to meeting new faces around the school.
"I'm excited to get to know a bigger piece of the students at East Meck, it's a whole new side of the school." said Hays.
Hays, although very excited about her new role,  says she will miss teaching chemistry and participating in labs.
"I nerd out about that stuff," Hays said. .
Parker is also happy with Hays receiving the new job.
"I'm ready for her to put her mark on the IB program, continuing Ms. LaJoie's development of the program, and then adding her own innovative ideas," Parker said.
East Meck will greatly miss Lajoie, and the feeling is mutual.
"The biggest thing [that I will miss] is the people," LaJoie said "I'm going to miss having a community of faculty and students."
But no matter where LaJoie moves in the future, she will always be an Eagle at heart.
"She will always be a phone call away," Parker said.