Parker named CMS Principal of the Year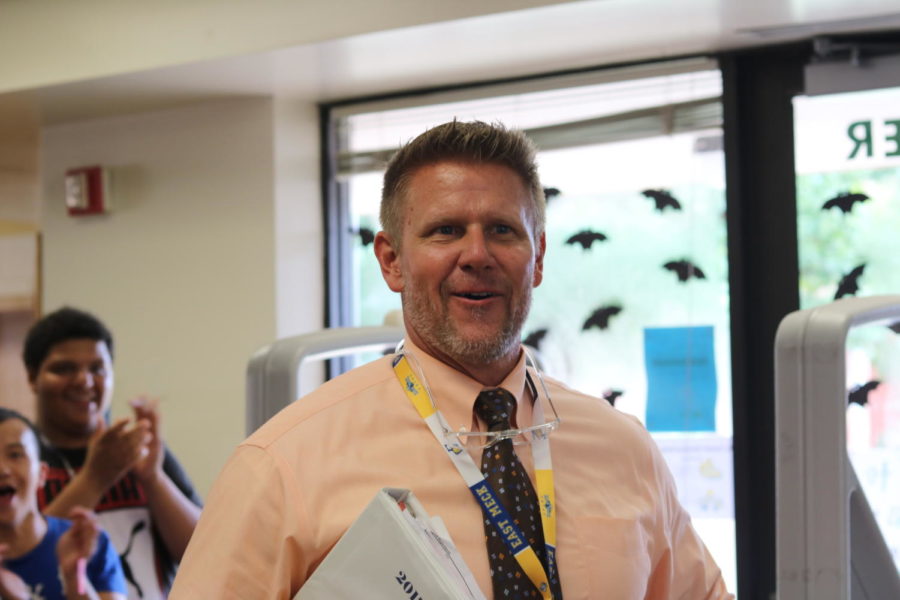 Story by Kate Carroll, Online Editor-In-Chief
November 1, 2017
Principal Rick Parker walked into the school media center on Tue. Oct. 11 not knowing what to expect. Greeted by a loud and enthusiastic "surprise!" from a room full of students, staff members and news cameras, Parker learned that he had been named the 2017 CMS Principal of the Year.
Charlotte-Mecklenburg Schools Superintendent Dr. Clayton Wilcox announced the award and introduced Parker with high praise.
"People believe in him because he believes in them," Wilcox said.
Parker was named CMS Principal of the Year just over a month after earning the title of Central Learning Community Principal of the Year. The Central Learning Community consists of 28 CMS schools located in central Charlotte. Some of the schools included in the area are Cotswold Elementary, Randolph Middle and Myers Park High.
Parker was one of the nine Learning Community principals who went up as finalists for the CMS Principal of the Year. Each principal was interviewed in a selection process that determined who would win. Parker said that he didn't anticipate winning.
"I was not expecting it," Parker said. "I went in and did the best I could, but I never dreamed that I would win."
Parker has worked in education for almost 30 years and has worked at East for 19, serving as principal for the past nine.
"I've devoted my whole life to education," Parker said. "I believe in kids, I believe in staff and I could not do it without a great team in my corner."
Parker credits the award to the students and staff more than he does to himself.
"I think it's great to win, but it's not just me that does it all," Parker said. "It's the staff that does it, it's you guys that do it. When y'all do great things and get out there and get scholarships and do big projects and bring in people from the outside, y'all are our brand."
Parker has worked hard to develop a brand for East. He considers the school to be a family.
"It's like my home," Parker said. "I mean, I cut the grass here, I cut the trees. I do everything that I can to make it a better place."
Parker also thinks that receiving the Principal of the Year award will help show people how great East really is.
"We're being considered, a lot of the time, a diamond in the rough and I believe we're a diamond," Parker said.
Staff and students are almost more excited about the news than Parker himself. Long-time teacher Robin Kolodziey said that the award was well deserved.
"He's very deserving because of his positive spirit and he always has the best interest of the students in mind," Kolodziey said.
Student body president Aiyana Willoughby echoes that message as well.
"He definitely deserves it," Willoughby said. "I don't know how he didn't get it sooner, honestly."
Willoughby also thinks that Parker's work translates to the overall culture of the school.
"It shows in the students and staff. We all act like one big family and it's really because of Mr. Parker," Willoughby said.
Perhaps the proudest among all of the guests that attended the presentation of the Principal of the Year award was Parker's mother, Margaret Parker.
"Oh I am so happy," she said. "Rick is just so genuine inside and out and cares for everyone."
She believes that her son is meant for his job.
"I think he's doing what he was called to do," she said.