MoRa art unveiling scheduled across from East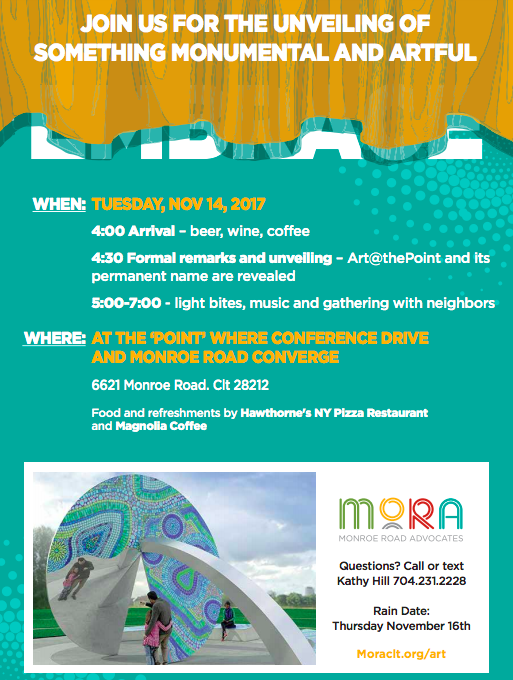 Art. It's interpretive. It's creative, it's notably reflective. Today the Monroe Road Area Neighborhood or MoRA will be unveiling an art piece known as, "[email protected]"
The artwork will be revealed during a community celebration at 4p.m.
The art structure currently stands at sixteen feet tall and hovers over it's onlookers as a gallant feature adding on to the growing community that is housed on Monroe Road. It was built with the purpose of an extreme parallel to Chicago's Public Sculpture, "The Bean."
The idea to create this model first arose from local artist Leslie Scott. Scott's vision was to produce a piece that emerged from it's surrounding community. She wanted the work to serve as a gathering place with a significant piece of public art at its cornerstone.
Scott began exploring the possibility of constructing a statement piece of artwork in January. She spent the next couple of months hosting workshops for community members to create tiles for the mosaic portion of the statue.
"She would encourage people to be themselves," said MoRA board member John Lincoln. "People would let down their guards to actually create."
East Meck students, community members and hundreds of other people gathered to add to this sculpture. Some engraved encouraging words onto their tiles and others simply drew an interpretive picture. Either way it was a collective effort between Scott and her local neighborhood to build this stunning addition to Monroe Road.
To the surprise of many, while working on the project Scott abruptly died in her sleep at age 57.
"It was such a punch in the gut and in the heart that we lost her," Lincoln said.
All work on the project ceased until another local artist Lee Baumgarten and Brian Smith of Carolina Fabrication decided to pick up where Scott left off.
An estimated 40,000 people will drive past this symbolic statue each day and Monroe Road Advocates are working to make this area a stopping point.
Currently, the space is open to be used as a gathering place for a local event or even a performance from East Meck Drama Students.
"What we intend to do is be creative so that we make that area as vibrant and livable as possible" said Monroe Road Advocates board chair Kathy Hill.