Relax, sit back and chill at Kona Snow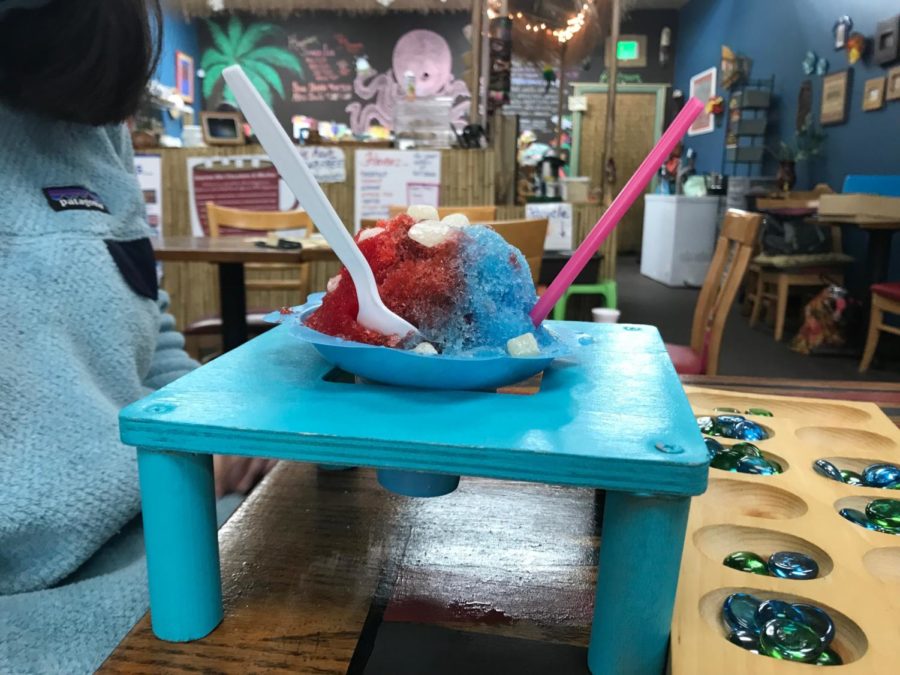 Refreshing and relaxing, Kona Snow is like a little island paradise right here in Charlotte just five minutes away from East Meck. With many interesting flavors and options, the little ice shop is a great place for an afterschool treat and a coffee.
Kona Snow is hidden away next to the Harris Teeter on Sardis Rd. N. Once you find it and walk in, you can tell that it's family owned. Created by three people from the Charlotte area, it's completely local. The idea of the shop came about when Robyn Pharr vacationed to Hawaii and got an authentic taste of shaved ice.
"I have always loved coffee, and fell in love with shaved ice during a vacation to Oahu. So I thought why not put two things I love most together?" Pharr said.
Their eventual goal is to open more stores throughout the Carolinas and I think that judging by how good the food was, they will reach this goal. The staff is most proud of the quality of their products that they sell.
"The shave ice machine is top of the line, as is the espresso machine. Our coffee drinks are perfect- not bitter or burnt. Our shaved ice syrups are made with natural cane sugar and excellent flavorings and we offer sugar free and dye free so no one is left out of a treat due to lack of options. We offer sugar free hot chocolate and lattes as well. I'm very proud that we have a variety to offer to everyone, no matter what their diets or health dictate," Pharr said.
For a mini ice, it's $1.50 and for a waena (the biggest size), it's $4.00. The hot chocolates and coffees are a little bit more expensive, but not by very much. The mini size is a little bit smaller than a mini blizzard at Dairy Queen, but almost half the price. The two small treats were the perfect amount, and there are many different sizes that are all almost exactly what you might be expecting. The quality and price of the food weren't the only things that made an impression on me. The atmosphere in the store is exactly how it would seem of a Hawaiian-themed ice and coffee shop.
It's small and cozy with many places to sit. The chairs and furniture don't completely match each other, but I thought that it added to the charm of this place. As we walked up to the register, there are many things that I noticed right off the bat. The theme of the shop is Hawaiian, and the counter is transformed into a mini hut with surfboard leaning up against it. Written on the surfboard were all 87 of the different flavors that they offer. It's actually a bit overwhelming, considering how many different things they offer. You can choose from shaved ice to 'Funnel Fingers', but only on specific days.
When you sit down with your order, you can sit at a couch, tables for two, or little game tables for chess, checkers and backgammon. On the shelves off to the side, there are many more games that you can choose from.
While we were thinking about what we should get, the staff were all very welcoming and gave suggestions that all sounded delicious. I ended up getting a mini cream soda shaved ice and a eight ounce s'mores hot chocolate. Instead of receiving s'mores, they gave me a regular with whipped cream. Even if they got my order wrong, the drink was the perfect temperature and wasn't too sweet or bitter. The ice was average, but the price made it seem even better.
My only complaint was that they got half of my order wrong. It's a small space, so the maximum capacity is a lower number, but it wasn't very busy immediately after school so you should be safe.
Overall, I highly suggest this shop as a place to challenge your friends to chess, chill on the couch with a hot chocolate or just read with a shaved ice in your hand. Stop by after school and enjoy the experience of Kona Snow.