Disaster dos and don'ts
What to do facing the arrival of Hurricane Florence.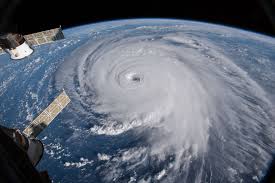 In the shadow of an impending hurricane, fear and panic would be a natural response, especially if the region isn't used to that type of disaster.
Hurricane Florence is your standard tropical storm turned hurricane. It formed around the coast of Africa on Aug. 30 and progressed towards the East Coast of North America. It became classified as an actual hurricane on Sept. 9 and evolved into a category 4 level a day later. Florence is expected to make first landfall on Thursday, Sept. 13.
Evacuation has been ordered for the North and South Carolina coast, expecting high, strong storm surges, extreme winds and rains and possible flooding. States of emergency have been declared in the Carolinas, Virginia and Maryland.
The Charlotte Mecklenburg school system has canceled school for Thursday, Sept. 13 and Friday, Sept. 14 due to many schools in the Charlotte area serving as shelters for evacuees. Visit this link to find the closest shelter if needed.
If you're prepared for a hurricane, there's no need to fear it. There are many steps to take to protect your home and lives when facing the worst case scenario.
Before the storm:
• Create a just-in-case evacuation plan.
• Plan what to do in case of power loss.
• Have an emergency kit prepared/stocked.
• It should have at least a flashlight, batteries, cash and first aid supplies.
• Bring in outdoor furniture and other items because they could become a safety hazard.
• Charge your phone fully
• Take the opportunity whenever you can charge it.
• If you have a portable charger, make sure it has energy as well.
• Tune in to a local radio station or official website for updates.
• If you lose power, open your refrigerator or freezer only when necessary.
• Close storm shutters if possible.
• Fill up bathtubs, water bottles, or Tupperware with water in case of emergency.
During the storm:
• Avoid walking or driving if there are heavy rains and/or floods.
• Only walk outside if it is completely necessary, and if it is, be extra careful.
• Stay calm and unstressed.
After the storm is over, make sure it has fully passed and everything and everyone is safe before leaving your home. Don't drive or walk through water, due to possible downed power lines or it being deeper than it appears. But most importantly, keep your wits about you and stay safe.