Students advocate for civil rights over quarantine
Students speak out on Black Lives Matter movement when in quarantine due to COVID-19 pandemic.
When forced to stay in, students chose to stand up.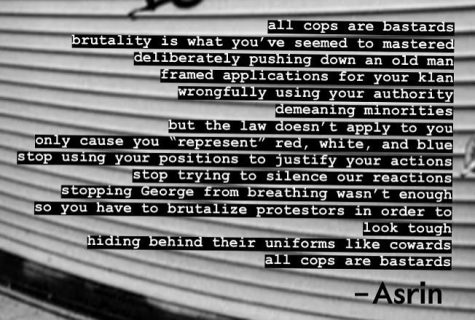 When the national quarantine went into effect in March 2020, not many expected the largest civil rights movement of the century to be the outcome. However, when faced with the free time that the quarantine provided, several students chose to advocate for the ever growing Black Lives Matter movement (BLM). 
With the effects of COVID on everybody's minds and in our hospitals, student activists were forced to use their online presence to voice their opinions. 
The primary way students chose to do this was through Instagram. Senior Grace Edem took it upon herself to educate her peers via online infographics, petitions, and funds on her Instagram story. 
"Being a Black girl I feel that it's very important for me to spread awareness and contribute as much as I can," Edem said.
The BLM movement is fueled by the unified belief that there needs to be changes to the way that Black people are perceived by society and specifically targeted by the police. This is a simple concept that caused an enormous amount of controversy, with every protest having a counter protest and every "Black Lives Matter" post having an "All Lives Matter" rebuttal. 
This only added fuel to the fire. Students became more outspoken and started educating one another on things as deep rooted as systemic racism. It became a historical movement in a matter of weeks after the wrongful death of George Floyd, despite the fact that the term "Black Lives Matter" had been coined since 2013. 
After educating others through her Instagram, Edem began to make signs advocating for the cause and placing them around the city. She was so outspoken that she was asked by Channel 9 WSOC-TV News to speak on the topic. 
One of the variety of skills and talents students used to raise awareness, is keychain making. Senior Emily Kolcz used her creative expression to create key chains, raising both awareness and money for BLM. This started at the beginning of quarantine with the help of English teacher Janae Aiken. Key chains were sold for ten dollars each, with all profits going to "itendsnowclt". 
"I did this because I wanted to find a way to help with what was happening and since I couldn't go to protests I wanted to find another way [to help]," Kolcz said.
Key chains were bought using a Google Form and paid for using CashApp. This also put Kolcz in the spotlight in the local news. She was not alone in her activism, as Kolcz received help from the 2021 Senior Board and Aiken, their adviser. 
Without in-person school or the extracurriculars that went along with it, students continued to find ways to express their creativity. Senior Asrin Jama did that through poetry. 
"I thought that pouring emotion and thought into my work would hopefully get a rise out of others and motivate them to do something," Jama said.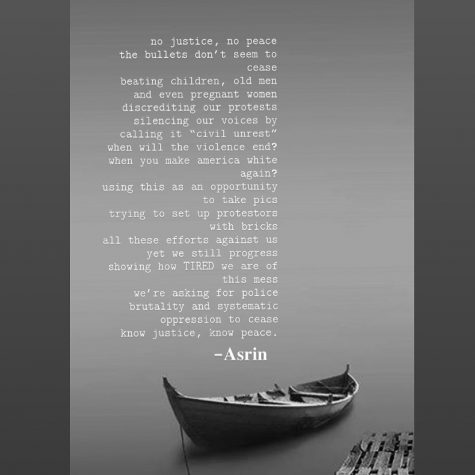 Jama also worked with several friends to spread the message of equality. She spent her time writing poems about the injustices that minorities in America face, and posted them to Instagram. However, with the attention her poetry gained, it also received backlash from those who did not agree with Jama. 
"At first I believed it was just out of stupidity and lack of common sense, but then I realized those who were angry are ignorant and blinded by what they want to believe America is today," said Jama regarding the criticism. 
Despite the anger regarding some of her content, Jama's poems still managed to get school-wide attention and educate others on terms such as "ACAB" and issues like the racism America is rooted in. 
Although every activist's experience was different due to quarantine, they managed to come together for a greater cause nonetheless. Now that school is back in session, along with college applications and fall sports, students find themselves with less free time to advocate. 
"I'm working with others to help stress the importance of registering to vote and, when the time comes, putting their vote to use," Edem said.