Community supports football coach battling cancer
To support Coach Forshee and his family during this challenging time you can donate at https://gf.me/u/y7fpr
Robert Forshee has been a cornerstone of East Mecklenburg since 2018, when he started coaching the East Meck Eagles football team for the second time. You may have seen him zooming past your class in a golf cart once or twice. Need something from the athletic department? As both a health teacher and the coach of East's most popular sport, Coach Forshee is the guy to ask.
Unfortunately, the Forshee family received heart-wrenching news when the coach was recently diagnosed with esophageal cancer, which has now spread to his liver and developed to stage four. Ask anyone who has met him, though, and they'll tell you that, if anyone can beat this, it's Forshee. He's a determined and hardworking man who has a strong support system behind him filled with caring friends, family, students, and co-workers. As important to East as he is, how could he not?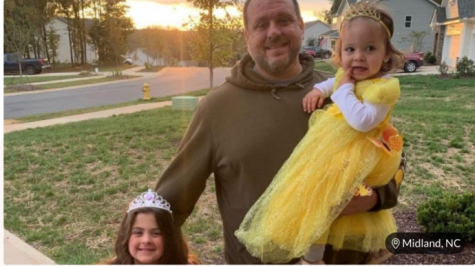 "He's the most enthusiastic and energetic person ever," said Eagle defensive tackle BJ Perry.
Forshee's diagnosis has led to a GoFundMe created by his wife, Carly Forshee, in order to raise money for his medical procedures and family during these difficult times. The link has been shared across social media with the hashtag #FORSHEETOUGH. Supporters have donated amounts varying from $5 to $1,000 to $5. The GoFundMe has surpassed it's first goal of $7,000 with over 188 donors and is now at $16,020 moving towards $25,000.
If you'd like to support Coach Forshee and his family, you can donate at https://gf.me/u/y7fprk, or share the link with those who can donate. His family also asks for strength, encouragement, and prayers during this challenging time. 
"Above all of these things, he's STRONG," said Forshee. "He's in for the fight of his life, but if there's anyone that can beat these statistics, it's Bob."