OMG Donuts review
If you are an East Meck student or live near the Monroe Road area, you DONUT want to miss trying the new doughnut shop right across from East!
Owned by married couple Mia Chang and Alex Kim, OMG Donuts & Coffee is one of the newest editions to the MoRa community, opening in October 2021. Sales have been booming due to its ideal location and great service. 
The second you open the door to OMG Donuts, you are immediately hit with the smell of sugary icing and warm baked dough. Your mouth instantly begins to water.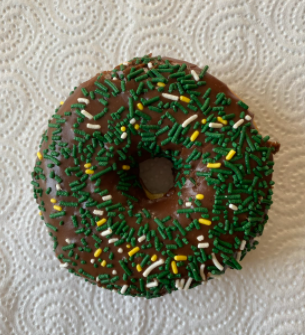 The shop itself has super inviting decor, as it has an abundance of pink and blue accents, along with implements of greenery throughout the space. 
OMG Donuts has a very welcoming and cute vibe to it, along with exceptional customer service. The workers are extremely friendly and tend to frequently have smiles on their faces, making your experience at OMG Donuts even more enjoyable.
The OMG Donuts staff also supports East and their events. This past February, they were kind enough to provide food for Senior Board's Sadie Hawkins Dance. They gifted the Senior Board three boxes filled to the brim with doughnut holes. They were an absolute hit and were gone within the first half of the dance.
I did have a few of the donut holes at the Sadie's Dance, and I must say they were phenomenal. They were just the right amount of food to fill you up in time for the dance. 
However, the OMG Donuts menu has more than just plain doughnut holes. The menu is filled with all different types of fun toppings and choices, like fruity pebbles, bacon, M&Ms and sprinkles in every color and shape you could possibly think of. 
I decided to try a classic doughnut, chocolate iced with sprinkles. When I say it was one of the best donuts I've ever tried, I mean it. I'd even go as far to say it is equivalent or even better than a Krispy Kreme donut. 
The doughnut itself is very thick and bready. Simply from the taste you can tell that the donut was baked not long before entering your mouth, rather than prepackaged or sitting on a shelf for days. 
What I like most about these doughnuts, is that while they are sweet, they're not too sweet to the point where your teeth begin to hurt, or you start to feel queasy. The doughnuts have just the right amount of sweetness to where you can genuinely enjoy what you're eating. 
In addition to the dough, the icing and sprinkles were just as good. The doughnut came with just the right amount of icing and sprinkles, not too much, yet not too little.
The presentation of the donut alone was easily a 10/10. The sprinkles looked very colorful and cute, along with the chocolate icing thinly spread across the dense, bready dough.
Not only are the donuts amazing, so are the prices! The prices for a single donut range from around $1.75 to $3.25, depending on what toppings or add ons you order. This price is perfect for high school students who don't want to blow all of their money on a high quality treat. 
For an amazing doughnut at an even more amazing price, it's safe to say that I will definitely be ordering from here again, and I would definitely recommend other students to give OMG Donuts a try!