Swimming Towards Success
Nate Hohm's Journey to Chapel Hill
Like a fish to water.
That's what many people say about junior Nate Hohm's affinity and gift for swimming.
Coach and CEO of the Aquatic Team of Mecklenburg (ATOM) Shaynah Jerrell witnessed this when Hohm joined the team at eight years old.
"The first time I watched him swim he had a really natural feel for the water and he was always competitive which is something that is hard to teach," Jerrell said. " Those two things combined made it pretty clear that he had potential."  
 The success followed Hohm in the pool, from being top of his age group at 10 years old to four years later (at 14 years old) winning multiple state championships. Jerrell has played a key role in Hohm's young swimming career.
"She's easily had one of the biggest impacts on me inside and outside the pool," Hohm said. "Shaynah taught me to treat every challenge as a new opportunity for growth. Although she may have just been talking about swimming it's been something that I apply everywhere in my life".
Anneliese Hohm, Hohm's older sister, was the one to get him interested in the sport. "One of the reasons I began swimming in the first place was because my older sister Anneliese started swimming," Hohm said. "She has always been three years ahead of me so being able to use her guidance and let her pave the way has been helpful."  
Hohm has truly cultivated a family at ATOM, which has made swimming more enjoyable, even through the rigorous training sessions. "I have a great small group of people I train with everyday, they keep me motivated," he said. 
Caden Campolmi, has been Hohm's teammate for the past six years at ATOM, and mentioned the amazing teammate Hohm has been. "He pushes everyone on the team to be the best version of themselves in and out of the water," Campolmi said. "He's very dedicated to the sport and the team."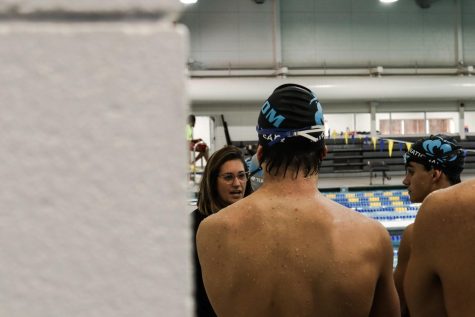 As much as the team keeps Hohm motivated, he reciprocates that same energy. "His energy is so hype and he pounds on his chest and yells and it gets everyone motivated especially at the end of the season," Campolmi said. 
Throughout Hohm's three years at East Meck he has been juggling a lot, with training sessions everyday after school lasting from 4 p.m.-6 p.m., being in the IB program, and now being a part of Student congress. 
This past year has been a culmination of his success, as he has been offered by Power Five Division One schools and other premier universities such as Auburn, Princeton, Dartmouth, Yale and Chapel-Hill. 
But Hohm's first offer will always be the most special one. "I was super pumped when I got my first offer," Hohm said. "It was the first time I realized that swimming could help me in life and set up my future whether I'm in the pool or not. "Going D1 (Division One) was a dream of mine for quite a while so it definitely felt like all the hours paid off."
The school that eventually rose to the top and stood out amongst the rest was the University of North Carolina at Chapel Hill. 
"Their team environment and team culture stood out to me," Hohm said. "They just looked like they enjoyed themselves and they just have a great balance of both academic and athletic success."
Looking towards the future Hohm has a number of goals. "I hope to qualify for the NCAA Division One championship meet, although I'm definitely a ways away but going into the future it's a top goal of mine. Additionally, wanting to compete in the Olympic trials in 2024, it's coming up soon and they just released the time standards and it's definitely attainable," Hohm said.