Rainning Threes: Jordon Nevill
When one thinks of senior Jordon Nevill, the number three comes to mind. In fact, it is the number that Nevill is always focused on.
That is because Nevill, a member of the boys' basketball team, is the number one three-point shooter in the state of North Carolina and 22nd in the nation.
In the new age of basketball the three-point shot is ever more important to the game, as players continue to hoist an unfathomable number of shots from beyond the arch. This change to the game has allowed for smaller guards to get involved in the game and play valuable roles on teams.
"It gives me a chance to thrive on the court and makes me harder to guard as it makes defenders have to press up on me, giving me the chance to drive to the rim," Nevill said. 
Even before Stephen Curry took the game of basketball to new heights at Davidson and with the Golden State Warriors, another North Carolina high school player changed the game with his three-point shots and influenced Nevill's game play..
 Josh King, a five-foot ten high school basketball player with a similar build to Nevill, displayed the impact smaller guards could have on the court with the three point shot. King played basketball at Trinity High School, and had a phenomenal career highlighted by being named AP player of the year in 2004 (his senior year) and North Carolina's "Mr. Basketball". This was all accomplished primarily due to his ability to shoot at a high clip from the three-point line.   
"King definitely paved the way for athletes for me to have an opportunity to succeed," Nevill said.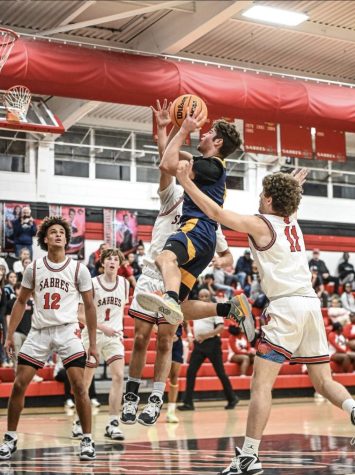 Nevill has been using the three-point shot to his advantage. During his junior year, he made 111 three pointers which is only 12 three pointers away from eighth place on the single season three point record held by Robert Doggett. Another point of contention is the bizarre fact that Nevill has had an equal or higher three-point percentage compared to his two-point percentage. In Nevill's sophomore year he shot 44 percent from the three point line while making only 40 percent of his tw- point shots.  
Meanwhile this season Nevill has shot at a remarkable 48 percent from the three-point line, and against Sun Valley High School Nevill came one point away from tying the single game record for most three-pointers made (12) which is held by King. 
   "It's crazy, I haven't really thought about chasing records, it just has been a byproduct of playing the game I love," Nevill said. " I didn't even know I was that close to reaching such crazy records."
 Currently, Nevill has made 87 three pointers this season and has averaged 23 points per game. The attention on Nevill has increasingly grown, with him topping the list for having the highest shooting clip for three pointers his junior year to continue on that trajectory with him being the top thre- point shooter in North Carolina this season. 
Nevill showcased his talent at the Phenom Hoops MLK Showcase which hosted the top high school basketball programs in the state of North Carolina both private and public when the Eagles faced off against the Cannon School. Nevill scored 30 points and made six threes in the matchup, making it a three-point game towards the end of the fourth quarter.  
"It feels really good to show off my three point shooting ability in a full season, and realize the work I put in the offseason is paying off," Nevill said. "It feels good to have the media's attention, but I understand that this is just the beginning and I can become way better."
But don't forget that Nevill has more to his game than just the ability to shoot threes. "My three-point shooting is a gateway to getting downhill and creating opportunities for my teammates," Neville said.