Gardening Club Sprouts From Years of Dormacy
Story by Hayley Ochoa, Internet Editor-In-Chief
April 21, 2023
As we move towards a more sustainable future, we've moved away from packaged goods and gained a closer connection with the planet, as we get down and dirty to appreciate the fruits (and vegetables) of mother nature, those at East with the passion have kicked up the soil on some buried plants, with a gardening club.
"Gardening club was started 2 years ago by a student named Iris; she started it during covid and nothing really became of it until this year," said Noah Grayson, senior, and gardening club president.
Grayson unrooted the Gardening club, because of his mission to bring people together to interact with nature, but the soil was rockier than expected.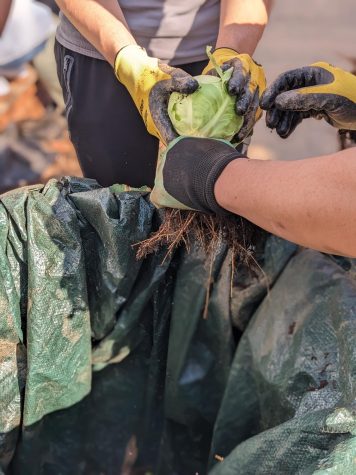 "I was trying to find some inspiration since I was coming off this with no one…in the past years we didn't really do anything," said Grayson.
Gardening club members now learn the soil, temperature and sunlight requirements needed to grow a variety of plants such as tomatoes, potatoes, cabbage, and mushrooms to give students the opportunity to learn how to be truly sustainable.
"My favorite part is probably the manual labor, at first we were destroying the beds because they were badly built…refilling the dirt, puting in the soil and planting the seeds and stuff," said Grayson.
Sustainability isn't the only objective of gardening club, as many members believe that gardening can sprout unique and reinventive experiences for those connected to nature.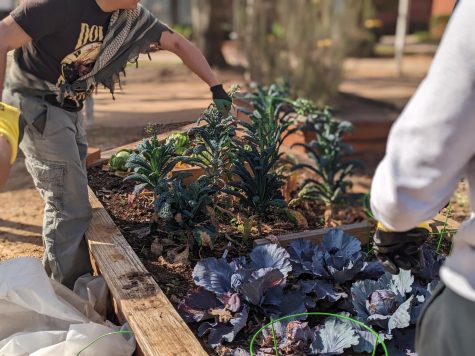 "I think there is a connection between humans and plants," Emir Cebo, sophomore, and gardening club member said, "and we need to support that."
Although sustainability and the human plant connection are important aspects of gardening club, that doesn't mean that all members dig the idea. Gardening club can just be gardening.  
"I like planting, I like taking care of the plants," said Israel Reyes Bermudez, Junior and garden club member.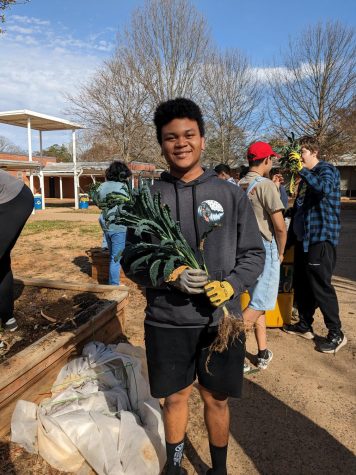 Whether sustainability minded, plant connected or just gardening for the sack of gardening, the initiative to better the community is at the forefront of gardening club. 
Importance is placed on taking care of the North Carolina community, Whether that's protecting vegetation already here or providing for the less fortunate. 
"We tried to plant native species that support the environment we're in (North Carolina)," Grayson said,  "We plan on planting produce to give out to soup kitchens or shelters."
Despite good intentions, everything eventually wilts. The gardening club faced extreme challenges this winter and many plants didn't make it, setting gardening club back significalntly
"This winter we were pretty unprepared for what was gonna happen with the frost," Grayson said. "Since then I've learned methods to prepare and different ways to protect the plants for an early frost like this year."
If you're looking for the pine-icle of the future of sustainability at East look no farther than East Meck gardening club. Grayson is eager to expand and gather the resources and team necessary to continue the club next year. 
"We aren't an aimless club, we just need resources to take them off the ground and that's what I'm trying to do while we start up again for the final few months of the year," said Grayson.