Senior Miya Bull will leave legacy behind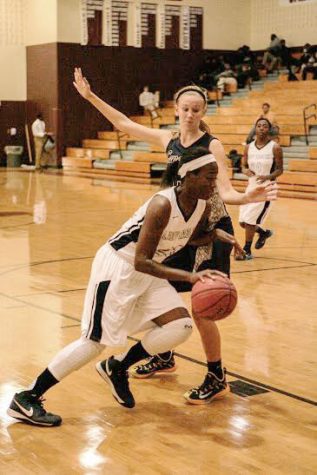 The sound of the buzzer rings in your ears. The feeling of the ball in your hand echoes your heartbeat as your dribble down the court. The pressure, the hype, and the intensity are all there.
For some, winning the game is the only thing that matters, and losing is like a death sentence. But for senior Miya Bull, it's all about the experience, and in her last year, she's realized that there's nothing like playing the game she loves.
"I'll just miss being on the court," Bull said. "I'll miss the game most of all."
While East Meck's girl's basketball has not had the best season, Bull has shone through. She has been featured several times in The Charlotte Observer, including once as a "Top Girls' Performer" for 29 points, 10 rebounds, and 5 blocks in a 62-42 win over Independence, and another as a "Charlotte-area high school basketball player of the week" after a recent game against Providence. Along with these honors, Bull was also ranked as one of the top three girls' basketball players in North Carolina for rebounds and blocks.
Despite the team's losing record, Bull feels the team has had some real gains.
"We're still a young team, and we're still developing," Bull said. "But I think our biggest achievement this year is there's a new, better sort of chemistry between the players."
Bull said that this year there was more of a personal connection between the teammates, a newfound bond that she feels was an important step for the team, and one that needed to be taken if they wanted to improve. Junior Shebryea Smalls, one of Bull's teammates, agreed that the team has developed a much better relationship.
"This year we've grown together as a team," Smalls said. "We go out together more… we're really bonding and building."
Smalls said that she thinks it is because of this chemistry that the team has had a better season, and Bull agrees.
"I'm not gonna lie," Bull said. "it's been stressful…stressful games, practices…but I love the girls, and it's great that we have good chemistry."
Bull is happy with her and her team's achievements, and is just enjoying her last year as an Eagle. She will miss the team, but will hopefully be able to continue to play basketball in college.
Bull is applying to several in-state schools, including UNC-Greensboro and Winston-Salem State, as well as some basketball scholarships from a few schools including South Carolina's Francis Marion University.
According to Smalls, Bull should continue to fly high in college.
"Miya is a really good captain," Smalls said. "She always encourages everyone. She's just a great teammate who never gives up…I think she'll go far in college."
Bull wants to thank her coaches Dwight Miller and Scott Fossum for really pushing her to her maximum potential. She says that in particular, Coach Fossum has provided her with good advice that has made her continue to grow as a player.
"[Coach Fossum] gives really good criticism and help," Bull said. "I want to thank [both of] them for staying strict and helping out."
She also wants to wish her younger teammates the best of luck in the coming years. And to her fellow seniors, she would like to motivate them to do their best in the last games.
"This is our last year," Bull said. "We wanna go out with a bang."
But regardless of the team's wins or her personal awards, Bull is just happy to have been able to play basketball at East.
"Overall," Bull said, "it's just been a blast."