Nora Byrne and Brandy Sanchez: The Dynamic Sophomore Duo of East Mecklenburg JV Football
   In high school football, it's not every day that you come across a duo like Nora Byrne and Brandy Sanchez. These two talented Lady Eagles from East Meck's JV football team are rewriting what it means to be kickers in a sport dominated by men.
   With a record of 1-5, the JV football team has faced its fair share of challenges this year. But, amidst the ups and downs, the team found success when they traveled to Rocky River and won their first conference game in seven years. 
   During summer workouts, JV football head coach Henry Price saw the women's soccer team up at the practice field preparing for their upcoming season. Needing a kicker for his team, coach Price decided to walk up and ask if any of the girls on the team would be of any interest.
   "We were both pretty excited about the offer so we told coach Price we wanted to do it," Bryne said. "After soccer we went down to the football field to see if we could kick, and it kind of started from there."
   "At first we were kicking the football like it was a soccer ball so our kicks weren't going far," Sanchez said. "It was hard to adjust but after practicing for a while in the summer I knew what I was doing by the start of the season."
   Sanchez, who is known for having the more powerful leg of the two, takes the kickoff duties for the team. 
   "I definitely improved since the start of the year. When I started kicking over the summer my kickoffs would be flat and only go like 20 yards, but now that I have my routine down I consistently hit 40 yard kickoffs," Sanchez said.
   Her ability to pin teams down the field on a regular basis sets the tone for each game and gives the defense an advantage.
   On the other hand, Byrne handles the even more stressful task of kickin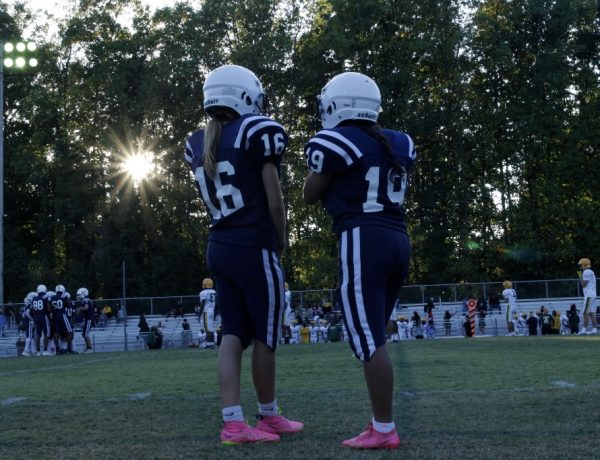 g extra points and field goals.
   "I was really terrified because it was my first time kicking in a game this year, but after my first kick was good, I relaxed a bit," Byrne said.
   Though she hasn't had the ability to showcase her kicking much this year due to the team's lack of offense, when given the opportunity she has delivered. 
   In their game against Butler high school earlier this season, Byrne made her first field goal from 30 yards out. "It's a lot of pressure, but I felt confident because we kick at practice every day," Byrne said. 
   Their continuous work over the past two months has paid off and it has not gone unnoticed. The late practices after school and their determination to be successful have pushed them to be better.
   "We both had fun this year," Sanchez said. "I'm excited to do it again next year."