East Meck JROTC wraps up the year with awards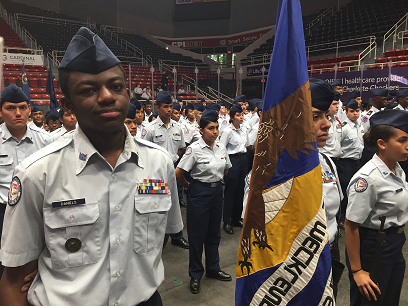 The East Meck High school JROTC program has wrapped up the year with awards, recognition, and the passing down of power from one cadet to the other.
On May 4 Unit NC-9512 held its annual awards ceremony. The East Meck cadets were joined by parents as well as various veteran organizations, who cheered as many cadets were presented with certificates, ribbons and medals. Among those were junior Chase Riddell,  who was named an outstanding cadet along with  sophomores Anette Jarquin and Portia Jones and senior Jenifer Alcarez). Riddell was also awarded the position of Unit Commander by senior Taylor Jones.
Various cadets said this shifting of power has created a good vibe in the East Meck JROTC community especially with the parting administration.
"I'm sad [to leave], but I'm excited to see where Chase takes this, and I have faith that he's gonna do good," Jones said  "I feel confidence in him for the next year."
JROTC Senior Instructor. Major Dexter Cox is satisfied with the effort that the unit has out in this year, but he says there's still room for improvement. "The unit as a whole needs to stay focused and I want to see more motivation next year and Chase has that," Cox said. "I think he can keep the unit on task and keep them motivated the whole year."
The award ceremony closed off the school year in anticipation for the next.
"As long as we keep that dream alive we should be all right," Cox said.