Teacher and Coach Irving Hunter transforms lives through track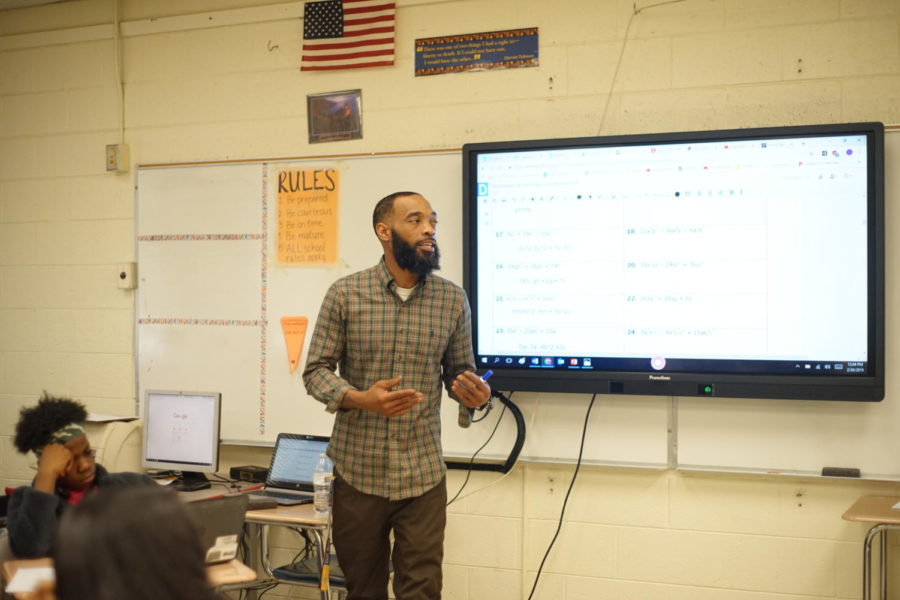 Track has defined the life and legacy of Irving Hunter. As a former all conference student-athlete at the University of North Carolina at Charlotte and the current track coach at East Meck, Hunter has proved to be dedicated to achieving excellence.
"Coach is like a dad. He'll always be there for you and he always wants the best for you," said sophomore Marcus Pankey.
Through involving himself in numerous activities in and around East Meck, Hunter has without a doubt left an unwavering mark on his community.
"He's the most committed and outgoing coach I know," said junior Azariah Stewart.
Hunter says he lives by the Martin Luther King Jr. quote, "The ultimate measure of a man is not where he stands in moments of comfort and convenience, but where he stands at times of chaos and adversity."
And he has lived through adversity. While growing up on The Plaza in Charlotte, Hunter recalls participating in sports at the local Boys Club and making friends with others in his neighborhood.
"We might not have had much but I do remember having family. And I remember all the advice I got from my father. He used to help everybody," Hunter said.
At a young age, Hunter says his father was his mentor and taught him to always look up in order to press forward despite the circumstances around him.
"My father inspired a poem I wrote, called 'Look Up' and it motivates to work hard every day," Hunter said.
When it comes to working hard, many have seen Hunter work relentlessly to build a positive reputation for East Meck's indoor track team. Serving as the only indoor track coach at East, Hunter has had more than 8 athletes qualify for states, 12 athletes qualify for city championships and has created an entire team full of passionate runners this season.
"Hunter has achieved a lot in a short amount of time," outdoor track coach Samuel Bryant said.
Hunter has only been coaching at East for the last five years but has been widely recognized for the level of greatness he evokes.
"The key to being a great coach is being a good listener," Hunter said.
"He knows how to push me to what I am capable of without exhausting my will to run," junior Azariah Stewart said. "He works hard for us to thrive and do better everyday."
Although there are typically no more than 15 participants on the men's and women's team each year, Hunter has still made it clear that success on a statewide level is achievable for anyone with outstanding work ethic. Runner, Kyle Goodman, discovered this his freshman year on the team.
"Coach Hunter has been an overall great coach, mentor, and like a father to me. He pushes me to be a great athlete and a great student in school. I couldn't ask for a better coach," senior Kyle Goodman said.
Goodman is one of Hunter's success stories. At first, Goodman showed strong promise as a budding runner on the team. However, he was soon pulled due to his academic ineligibility. Goodman struggled to remain eligible over the next couple of years, but after working with Hunter over the summer academically and athletically, he has shown exceptional growth this school year. Goodman is now a national phenom and was the state runner up in the 500 meter dash. Currently, Goodman has run the fastest time in the nation in this event on an outdoor track.
"Kyle listens and executes, that's what makes him great," Hunter said.
Hunter's goal is to always actively listen and execute at all times.
"What you listen to is so important, that's why I wake up every day and listen to the motivational speaker, Eric Thomas," Hunter said. "Hearing Mr. Parker on the announcements every day motivates me as well."
The bond between Hunter and Principal Rick Parker is another relationship that has progressed over the past couple of years.
"From what I've seen [Hunter is] very good with connecting with his students and players," Parker said. "He's able to get down to their level and talk to them genuinely while maintaining his authority as a teacher and a coach. That's his strong point, he can get students to work hard,"
Hunter is beyond thankful for the chance to encourage students in the same way he was encouraged by this father.
"Mr. Parker took a chance on me, and I appreciate him for that," Hunter said. "Had he not, I wouldn't be an East Meck teacher or coach and I owe him. Because of him, I take a chance on every athlete and student that crosses my path."
Other athletes like Goodman and his students have shown extensive academic growth after being taught or tutored by him.
"He has a very good teaching style and helps students on their work. He explains everything diligently. He's probably the best teacher I've ever had," freshman Fermin Barron said.
Many students say he has impacted them academically and emotionally.
"Mr. Hunter is one of the few teachers I actually care for. His spirits are always lifted, that's one of the things I love most about him," freshman Ayanna Takuri said.
Currently, Hunter is working towards getting his teaching license from Queens University of Charlotte and eventually a masters in education at the University of North Carolina at Charlotte with hopes of becoming a principal.
"We need more principals who can connect with students," Hunter said.
Not only is he is working to connect with students, but he works to connect with all people. Outside of coaching track and field and teaching in the classroom, Hunter is an avid reader and writer. He prefers motivational works and hopes to publish his own book someday soon.
"In all I go through, I plan to 'Look Up' to see past my circumstances to press through adversity," Hunter said.