Boys tennis serves record-setting season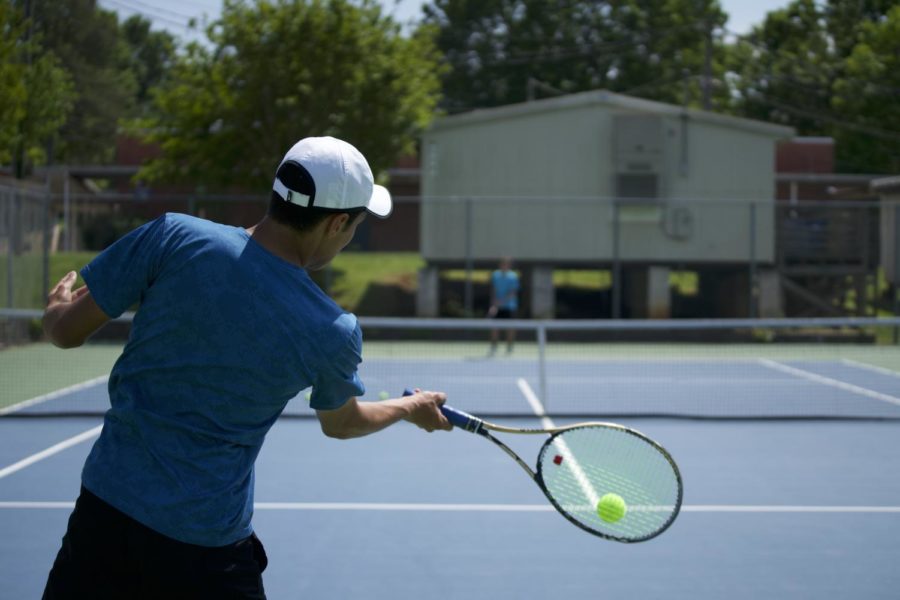 Back. Forth. Back. Forth. Fans, families and friends watch with excitement as the boys tennis team finishes a match. This matches' win sets the conference record to be 9-3, the highest record for the boys in 15 years.
Engineering teacher Thomas Nguyen is the coach of the boys and girls tennis teams. He believes that this year is one of the better ones for the boys.
"They practice all the time," Nguyen said. "They work on the games, the strokes, their strategy. They've been more fit, they hit better and they're just more consistent."
Senior Nikhil Sadagopa, ranked first on the team ladder, contributes to many of the wins. In the conference tournament, he was one of the four people from the team to move on to the regional level. The other three were junior Ahmed Mohamed in a singles match, and juniors Hart Walker and Gavin Ciganek as a doubles team.
Sadagopa has been playing tennis for eight years and for four years at East Meck, and he attributes his skills to Nguyen and the other players and how they have helped him grow in the sport and as a person.
"Ever since I joined the team at East, I feel like I've gotten a better team mentality," Sadagopa said. "To support the rest of the team and to not let them down when I'm playing."
Mohamed, however, has not been playing as long. Beginning tennis as a freshman, Mohamed was able to reach the number two rank on the team through training with the coaches Nguyen and Pender Murphy, a retired player.
"I go to practice every day and listen to what the coaches say," Mohamed said. "Coach Nguyen taught me my forehand, and Coach Pender is the one who taught me how to play tennis from nothing."
Though the players are what gives the team the record that they boast, they dedicate their skills to the training provided by the school. With Nguyen's support, Murphy hosts free clinics many days after school for students and players to come improve their skills.
Freshman Oliver Wilson, who is new to the sport, contributes this extra focus to how he has grown as a player.
"Really I've just played with my grandparents, but I wanted to get better," Wilson said. "I've improved in every way, at least by 100%, because I didn't have much practice beforehand. Coach Pender probably helped me the most."
The boys tennis team accepts players of all grades and gives everyone a chance to prove their worth. Their primary goal is to find a way to balance sportsmanship with playing their personal best.
"Winning is not a big deal for me, and they realized that themselves when they lost to a team they shouldn't have lost to," Nguyen said. "Then I say go out there and have fun, and all of a sudden they start winning. They have more fun."