Cymone Cooke-Gray named homecoming queen as Eagles suffer another loss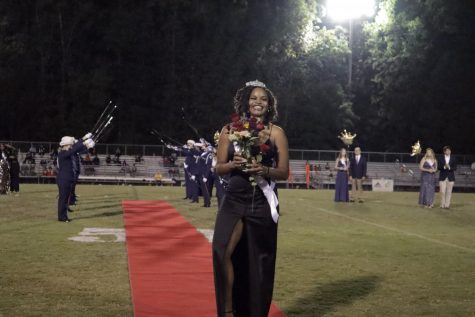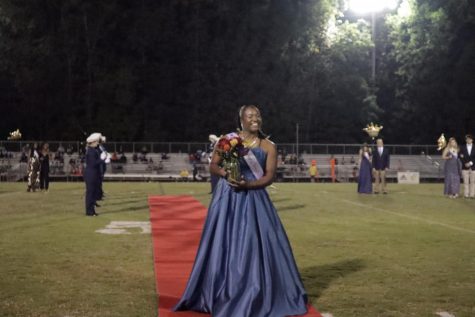 In an epic return of the traditional Homecoming (HoCo) football game to East Meck, students gathered in their blue and gold attire to cheer on their underdog team. This year the HoCo game was held Sept. 17 against Rocky River, following a four-day spirit week.
Kick off began at 7 p.m., the stands already filled with chattering students and alumni. Since the student section has expanded to allow room for social distancing, it has given students the opportunity to be twice as enthusiastic about their beloved team. It was a rough first half, ending with a 26-0 score with Rocky River leading. The buzzer sounded for half-time, prompting Student Congress to sprint out onto the field to set the stage for the crowning of the queen. 
While the HoCo court typically consists of eight senior queen nominees and four junior princess nominees for each grade level. This year changes were made, making the court consist of 11 nominees for Queen and excluding junior princesses. Nominated for queen was: Zoee Andrews, Lailah Allen, Jala Brown, Emma Carroll, Cymone Cooke-Gray, Livia Hess, Lela Holt, Natalie Pound, Iyee Rennie, Summer Rutherford, and Ainsley Sumner. After they were announced with their escort walking down the carpet spanning across the 50-yard line, they stood next to an assigned balloon on the field and anxiously awaited the results.
Finally it was announced that the runner-up was Zoee Andrews and the title of the 2021-2022 HoCo Queen was won by Cymone Cooke-Gray. The crowd cheers as the nominees and queen clap for each other on the field. The carpet rolls up and the band plays once again. The scene is shimmering, from the mylar balloons flying away, to the sparkling gowns the princesses donned.
The buzzer goes off and the Eagles resume their fight to defeat the Rocky River Ravens. After four quarters of valiant effort, East is defeated 48-0. This makes the team 0-5 on the season, with five games remaining.