Soaring Eagle: Wilson Nguyen
When the weather starts getting colder, winter activities such as skiing, snowboarding and ice skating regain their annual popularity. However, junior Wilson Nguyen stays on the ice rink year-round. 
Nguyen is a very skilled figure skater. In late 2019 he went with a couple friends to the Pineville Ice House rink. As he was skating his friend complimented his skills and encouraged him to take private lessons. Nguyen wasn't so sure of this, since he knew lessons were expensive.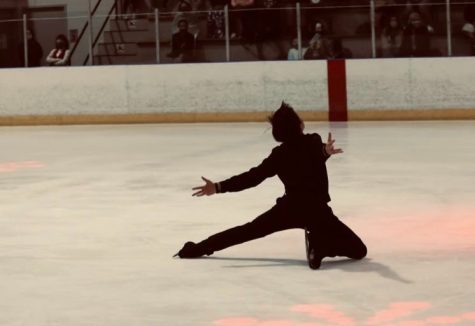 A month later Ngyuen ended up giving in and took his first lesson at the Pineville Ice House and sequentially continued with them. The instructor he had was rigid and harsh but that helped him become adept faster than expected.  
"I was really nervous," Ngyuen said. "I've never experienced anything like that before." 
With Nguyen's natural talent combined with his strict coaching he moved up in the rankings quickly.
The national ranking system for figure skating is basic 1-6, freestyle program, pre-preliminary, preliminary, pre-juvenile, juvenile, intermediate, novice, junior and senior. Right now Nyugen is working on pre-juvenile and is going to test for it soon.  
Preparation for the test has worked his body to its limits.
"The sport requires you to have a strong body and mind," Nguyen said. "It puts you in a place where you have to be mentally and physically healthy. It goes half and half, it really pushes you to be your best person. No other word can describe figure skating other than beautiful."
Most people who found passion in figure skating usually started at a young age. For Nguyen he didn't find his love for it until age 14 so he got a late start on things. 
"I feel more driven to practice more because I started late in life," Nguyen said. "I'm in no way the best at anything there is with figure skating but I hope to become one of the best."   
Nguyen has competed in three competitions so far.  His first competition he placed first in freestyle and second in lyrical pop. In his second competition, he placed first in comedic and first in lyrical pop. Nguyen also won a competition in Durham where he placed first for lyrical pop.  
Lyrical pop is when you skate to a pop song and turn it into a fun performance, while comedic is similar except it has to be funny. Freestyle has stricter requirements than comedic and lyrical pop. The judges focus on the technical aspects of how precise the jumps and spins are. Trying to master tricks in freestyle leaves less space for artistry.  
Nguyen has also performed in two spring and Christmas shows and was given a solo as well as group parts. He's been in Theater on Ice twice, the first time as the male lead and the second time he was a part of a group team.  
In 2022 Nguyen will be competing in four different categories and performing at nationals. 
"I'm very nervous about nationals,"  Nguyen said. "I don't want to let anyone down who's helped me come this far."
With all of the experience Nguyen has at his age he has realized in the future he wants to pursue a career in figure skating, whether it's being in the Olympics or just as a local coach.  
"I don't know where I'll end up in the future," Nguyen said. "But I know it'll involve figure skating."