Soccer player kicks down school record
Senior Charles Basse surpasses former record holder Sean McGinty's 1999 career total of 84 goals
Story by Zila Sanchez, Managing Editor, The Eagle
February 6, 2016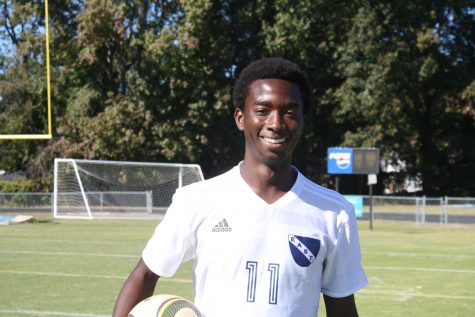 Eighty-five was the magic number he was looking for. After four years of hard work, Charles Basse scored the record-breaking goal 22 minutes into the game, and earned his spot on the record books.
Basse broke the school record on Oct. 7 for individual career soccer goals, set by Sean McGinty with 84 goals in 1999, in the game against Independence. By the end of that game against Independence, he had totaled 87 career goals. The numbers continue to rise with every passing game.
"I didn't expect the school, newspapers, my teammates, anyone to react the way they did," Basse said. "I thought it was just another statistic."
But the record proved to be much more than a statistic. Soccer coach Joel Edde said the record helped to bring the varsity team together.
"[The record] is important for the team," Edde said. "…It's a springboard for our team's success, which I believe Charles [Basse] thinks is more important."
Junior Jack Mehrtens, who assisted Basse in scoring the record-breaking goal, said he felt very proud of Basse, and that he, and all his teammates, shares the victory.
"Charles said after the game, when we were in the huddle, that he wouldn't have gotten those 85 goals if it wasn't for us," Mehrtens said. "Charles realizes that we're all in it together — if we don't play as a team, we won't get any goals."
Basse agreed that his accomplishment was not done by his effort alone; he owes his victory to his teammates and coach.
"Everything I do is with the help of ten guys around me," Basse said. "The team — we're a family. They are like brothers to me."
His teammates feel the same way about him. Mehrtens said that Basse has been a role model for him and his teammates.
"Charles [Basse] comes to practice and he works the hardest out there," Mehrtens said. "We try to work as hard as he does because we want to be as good as he is."
For Basse, it hasn't always been easy for him lead his team, he said. He worked hard to earn the respect from his team, but has suffered minor stumbles.
"[In my] freshman year, I had trouble because the seniors would be a certain way and I'd fight back…" Basse said. "Whenever a senior told me to do something, I was on edge. I looked at status as skill rather than what class you're in. I've had a rough time. It's not always been bright, but we've gotten through it as a family."
It was that aggressive attitude that Edde noticed when Basse first started out his freshman year. Edde said he knew even then that Basse had great potential.
"We were very excited when he showed up on campus," Edde said. "You could instantly tell he was not the average freshman… What I think makes him different is his drive to be better. I didn't expect him to become the leader that he is, but I fully expected his growth in [skills]."
With more games to left in the season, and the playoffs around the corner, there is still room for the team to improve. The record may have been the motivation to better themselves.
"It's not been easy," Basse said. "Even today we struggle, but we only go up from here."