Multi-sport athlete Coy Brown starting on right track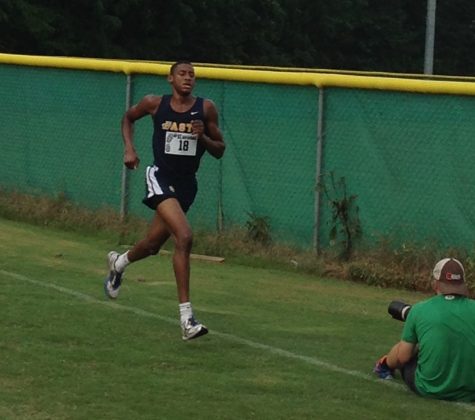 "C'mon guys, one more rep, let's push it."
At a hot and grueling track practice, you might hear senior Coy Brown encouraging his teammates to finish the workout. The enthusiasm in his voice pushes his teammates faster and faster, until they cross the finish line. The unique drive and support Brown provides to a team is the very foundation of his success here at East.
Brown said he has always been a competitive person.
"I have an interest in being in shape and always improving," he said.
Although East Meck men's track team hasn't won a state championship since 1997, Brown himself made his way to state for the 800 meter run last school year. He has been training hard for all four of his high school years, as well as playing basketball and track in middle school.
This year, Brown is taking a different route. He is running cross country during the fall season and will play basketball in the winter, and complete his senior year with outdoor track, as opposed to only playing basketball and running outdoor track..
The events Brown runs the 400m dash, 800m run, the 4x800m relay and the 4x400m relay. Last year, he ran a 1 minute 57 second time for the 800m, just two seconds above the East Meck record.
This cross country season Brown started by running an 18 minute 23 second 5k (3.1 miles) at the Providence Invitational, a race with all the schools in the conference, on Aug. 29. He said it was his first 5k since middle school, but that didn't hurt him much: he averaged just under a six minute mile, placing him second on the team and in the top 30 of over 200 boys.
Brown may be quick, but he has more than one intention when he runs.
"I want to be a friend, leader and a motivator for all my teammates," he said.
Obviously, it doesn't matter what race Brown is running; he never seems to disappoint. However, he didn't become a record-breaking runner overnight. Brown's success didn't start with himself, but rather with the building up of others. By taking on the leadership that comes with being a senior, he hopes to carry the track team this year and make it his top priority to be there for others.
"Many coaches and teammates helped me along the way, such as Coach Andrew Vuncannon and Coach James Elkin [in middle school]," he said.
Teammate Wolfgang Hunter, a senior, also has assisted in Brown's improvement..
"I first met Coy in middle school," Hunter said. "Over the years, I saw him as a kid who pushed himself and was never truly satisfied until he crossed the finish line first. Coy contributes pure speed to our relays. He can run a competitor down from a hundred meters away."
In turn, Brown appreciates the support from his teammate.
"I think we push each other to work hard," he said, "and I believe the track team could use more great athletes like [Hunter]."
Brown said another important role model for him was Fisher Ramsey, who graduated in 2015.
"I really looked up to Fisher, and we had a great 4x800m relay team," Brown said.
As far as his senior year goes, Brown says he has big dreams. He hopes to develop his skills in cross country, especially with the new coaches, Irving Hunter and Ingrid Weatherby.
"I knew right away Coy would be an asset to the team," cross country coach Ingrid Weatherby said. "I also noticed his polite and sincere demeanor immediately when he came to talk to me about running. Coy's easy nature, his positive energy and his self motivation make him a coach's dream to work with."
"Since it's my senior year, I think people assume there is a lot of pressure on me," Brown said, "but college will always be there and I want to do this for myself."
However, he admits, that he would like to be set on a college by the time outdoor season rolls around.
"I am taking it day by day," Brown said, "but East Meck sure deserves a track championship this year!"