Workman Races to Success
It's safe to say the average person has never gone 150mph in a car before, but senior Westin Workman has, he started competitively race car driving at the age 12. 
Workman has always been interested in cars because of his dad. He started out doing indoor go karting for fun which then sparked his interest in racing. 
"Going from karting to cars gave me a sense of what my future might look like," Workman said. "It made me realize I could have a career in this."
At the start of Workman's career in racing, in 2017, he and his parents toured the GoPro Motorplex in Mooresville, North Carolina. While at the Motorplex, they figured out the information on how to get Workman into racing and bought him a cart, shortly after Workman joined a team and had his first race. 
"If it wasn't for my parents I wouldn't be here right now," Workman said. 
Because of his performances in previous races, Workman was invited to compete in the Mazda Motorsports Shootout earlier this year and was provided a Mazda Spec MX-5 to compete in. He raced against 30 other drivers. Out of the 30 competitors, nine were chosen to drive in Sebring, FL for a shootout. In Florida, Workman and others were evaluated on their skills and Mazda Motorsports chose Workman and one other to give a $50,000 scholarship to race for them.
"It felt amazing to win the scholarship," Workman said. "It was a life changer."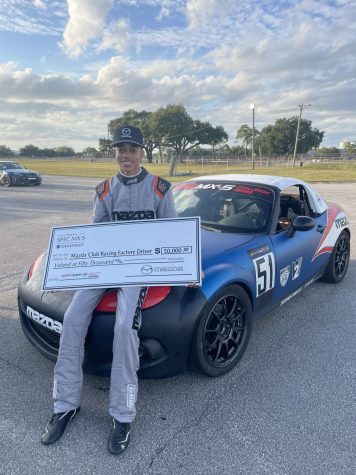 Workman has raced in different series such as Spec MX-5, Lucas Oil and many karting races. Some of the places Workman has traveled to compete in these series have been Chicago, New Orleans, Miami, Austin and Las Vegas. With how much Workman travels, balancing out school can be challenging. 
"I want to get on the good side of my teachers this year," Workman said. "Before I have to fly out to a race I'm going to do all the assignments I need to do so I don't fall behind." 
A normal race for Workman starts out with him going to the race destination on a Thursday, then on Fridays he has practice sessions all day to get a feel on what the race will be like and how he wants to set up his car for the next day. On Saturdays is when qualifying sessions take place and where you qualify determines what position you start in the actual race. 
 With all the races Workman has competed, the one he's felt most accomplished with was at the GoPro Motorplex. 
"In 2019 I did my first national race," Workman said. "It was on Father's Day so I felt like I was competing for myself and my dad."
After Workman graduates this year, he plans to go to UNCC, making it more attainable to continue practicing at GoPro Motorplex. 
Since Workman started racing he has lived by one motto to keep himself motivated at every competition. 
"How big would you dream if you knew you couldn't fail," Workman said.