Soaring Eagle: Scottish tune leads Rudd to learn bagpipes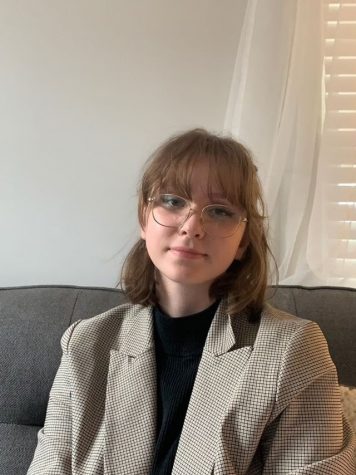 From the cultural suppression in England to the Scottish diaspora, there just aren't many people who play the bagpipes anymore. But a chance encounter with a song online changed Mary Rudd's life.
Coming from a Scottish background but not really being involved with the culture, senior Mary Rudd took interest in the bagpipes after stumbling across a Scottish working tune on YouTube. 
"It was a gorgeous song sung entirely in Scottish Gaelic, and while the bagpipes weren't the most prominent in the song, it inspired me to go ask my uncle and ask him to teach me how to play," Rudd said. "My uncle has always been the only one who is really involved with our culture."
Rudd started playing the bagpipes a little over a year ago, at age 16. Although it may look and sound easy from a listener's point of view, playing a unique instrument can be quite difficult for beginners. 
"It takes the coordination of your breathing and arm movements as well as getting the right fingerings so it's really complicated," Rudd said.  "In most cases, you don't even get to play actual bagpipes for the first few years you are learning."
As she is still a beginner, Rudd doesn't plan on taking it any further than a hobby. 
"Most players, in general, aren't even professionals," Rudd said. "They just do it at home and then at the Highland Games or similar gatherings."
Highland Games are events held in spring and summer in Scotland and other countries with a large Scottish diaspora, as a way of celebrating Scottish culture
Besides learning how to play the bagpipes, Rudd's other hobbies now include learning the Scottish Gaelic language.
"What made start learning Gaelic is a bit hard to pinpoint," she said. "I guess I got sucked into things as I began researching my family's history and learning the bagpipes. If I was going to be so involved with my family's history. I thought I might as well learn the language they spoke."
Learning about her ancestor's culture has led Rudd to a personal Scottish community where she is able to attend language conferences and a Gaelic community on the Web. 
"I have an online community where we all practice Gaelic," Rudd said. "I've been able to make some pretty good friends from it.'
Learning these things about her culture has impacted her in a positive way.
"This has generally opened up my world and my interest and it has helped me learn lots of really cool things that I wouldn't have  known otherwise."