After all this time, fans bewitched by Harry Potter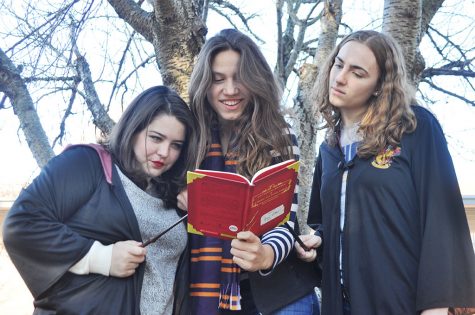 Despite Harry Potter having grown from the title of "the boy who lived" into an adult, his loyal fans haven't grown up at heart. They have been eager for new content, and their waiting will finally pay off next year.
The author of the Harry Potter series, J.K Rowling, has said that there will be a sequel to the book series, a play called "Harry Potter And The Cursed Child." There will also be a film adaptation of Fantastic Beast and Where to Find Them, a novel released highlighting the adventures of wizard Newt Scamander in New York.
"While Harry grapples with a past that refuses to stay where it belongs, his youngest son Albus must struggle with the weight of a family legacy he never wanted. As past and present fuse ominously, both father and son learn the uncomfortable truth: sometimes, darkness comes from unexpected places," the official play website states.
This play will be performed in London in 2016 and directed by Jack Thorne. It will follow the adventures of Harry's son, Albus, who inherited his father's knack for trouble as well as his looks.
However, the Potter family won't be hogging all the attention, Fantastic Beasts and Where to Find Them features American wizards, much to the delight of American fans. Interestingly enough, Scamander's adventures are more well known than young Albus'.
"I haven't seen [Harry Potter and the Cursed Child] actually; I haven't really heard a lot about it," said Junior Rachael Arnold, who knows more about Fantastic Beasts and Where to Find Them. She is a fan of the actors that will star in the new movie, including Eddie Redmayne.
While fans don't doubt that Rowling enjoys the Harry Potter experience like her fans, they do wonder if money is a driving force behind this new material. Rowling has written things outside of Harry Potter, most notably under the pen name Robert Galbraith. Both The Casual Vacancy and The Cuckoo's Calling were adult novels published under the penname.
Despite Rowling's efforts to stray away from Harry Potter and children's literature, many of Potter's dedicated fans have been dedicated to the boy who lived since they were in elementary school, many having read the series multiple times.
"I read all of the books and I grew up on Harry Potter," junior Matthias Poku-KanKam said. He has been paying more attention to the new Star Wars movie coming out, but he still enjoys the fantasy novels.
Even when you're not reading the books, fans find ways to experience the magic.
"I've been to the Wizarding World twice, I've read the books numerous and countless times," senior Lindsay Moran said, "I don't like the movies that much because they're not very true to the books, but I'm a very big fan." However, the movies are still just as popular as the books considering that ABC Family still has Harry Potter weekend marathons frequently.
The popularity of Harry Potter hasn't faltered at all, and fans eat up Potter and his adventures.
"I love Harry Potter, it's a fantasy world and everyone wants to be a witch or wizard," sophomore Brianna Shore said. Shore can't recall exactly when she read the books, but she still holds them very dear to her.
A lot of the series appeal comes from the fact that Harry is relatable, despite him being a wizard who was chosen by prophecy to meet face to face with He-Who-Shall-Not-Be-Named.
"Harry, the main character, isn't a genius. There's nothing particularly special about him other than he was chosen and he's just your average person. He forgets to do homework, he gets bored and things like that." Arnold said. She read the books back in elementary school, and thinks of the novels as something to come to again and again to reminiscence.
Harry Potter isn't just a one time experience, it's something that withstands the test of time and stays with you.
As Rowling puts it, "Whether you come back by page or by the big screen, Hogwarts will always be there to welcome you home."